Company Email Set-up
Running your own company but still using a generic email domain? Looking to generate your own company domain? We've got you covered.
Grant us the opportunity of improving how you do business. Having your own email domain speaks to the professionalism and credibility of your business; it paints an enhanced business image, solidifies consumer trust in your operations, and facilitates your company in receiving instant recognition. Enjoy all advantages thrown your way when we work with you to create an email domain chosen by you to suit your business.
Contact
us now to get started.
Managed IT Services
At Perita Business Solutions we strive to provide you support and solutions tailored to meet your company's requirements and budget.
Keeping up with the latest technological advancements, and trying to maintain them, can be very challenging and costly, particularly for SMEs with limited resources; by choosing to work with our devoted team of IT experts who can manage and monitor your business' networks and servers, you will benefit from having a reliable, secure, and fully optimised IT system. Dedicate your time to focusing on other core business operations while our qualified technicians address your technical needs. We aspire to help your business stay ahead and operate efficiently, using our trusted IT partners including the likes of Microsoft, Lenovo and Dell. Take advantage of our extensive knowledge when (and before) tech issues arise; we are equipped to help. Enjoy experiencing cost-effective solutions through the implementation of our monthly software subscription, designed to minimise your technical costs and help your company avoid large cost outlays. Furthermore, one can avail of our
support
if and when it is needed; it is not necessary to be tied to a services contract. Contemplating taking on a large IT project? Perita Business Solutions is here to help. We can secure finance for you to aid in the process of spreading costs.
Click here to learn more
.
Keen to learn more about our services? Keep scrolling
If one of the services you are looking for isn't listed, why don't you contact us to find out more.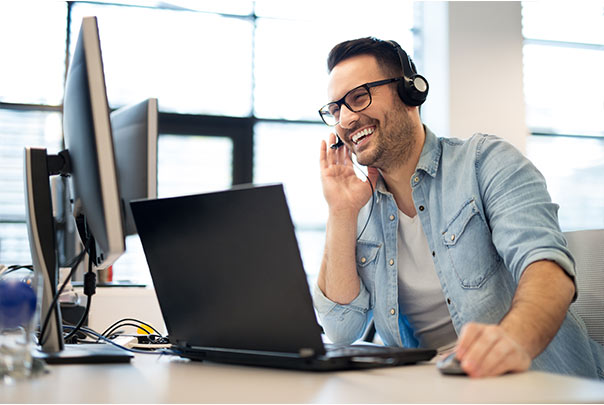 Remote Support
Our trusted team of technical experts offer fully flexible remote support and e-solutions to your business, to enable your team to continue working at an effective rate and equal (if not higher) standard to that experienced when present in the office.
Since the outbreak of COVID-19, many businesses have moved their operations offsite with employees working from home full-time, if not part-time. Now, more than ever, having a secure remote set-up and access to remote support is essential to ensure business success. We pride ourselves on having effective solutions to your remote needs – whether it be providing remote support for IT breakdowns, guiding the set-up and implementation of remote systems and policies, advising end-users on how to deal with / prevent cyber-attacks, or simply being your point of contact if a tech issue occurs – we are happy to help.
Cybersecurity
Struggling with understanding cybersecurity and unsure what to look out for? There's no need to worry.
Technology has revolutionised how we conduct business – it has changed how we communicate internally and externally, how we store our data, how we raise awareness surrounding the products and services we offer, how we train staff, and so forth. However, the evolution of business technology brings with it the heightened exposure to risk from cyber threats. It has never been so imperative to secure your servers, networks and equipment to prevent downtime and financial losses caused by cybercriminals seeking out your company's information, used to negatively impact you and/or your customers; the methods these cybercriminals adopt are constantly evolving to overwrite preventative measures implemented by firms. Let us help you stay ahead. Struggling with understanding cybersecurity and unsure what to look out for? There's no need to worry. At Perita Business Solutions we advise and inform customers of the best practices to put in place to protect against cyber-attacks and guide you in deciding which security measures are best suited to protecting your business' data. We aim to enhance security, awareness and compliance with protocols in place to limit exposure to potentially damaging and costly threats.
Disaster Recovery and Prevention
Struggling with understanding cybersecurity and unsure what to look out for? There's no need to worry.
Being able to access data during unforeseen circumstances - whether that be a fire, flood, theft, electrical outage, or global pandemic - is essential in ensuring business continuity. We never want to see you in a position where you are unable to meet customer demand as a result of failing to prepare. This can cause irreparable damage to a company's reputation, not to mention opportunity and financial costs. Avoid the loss of valuable information and files stored on hardware devices by simply backing up your data i.e., saving a copy of it and storing it securely on a cloud server or other chosen solution. Backups can be quickly and easily set up within your online environment so that information is attainable, no matter the circumstance. Having a reliable network is more than half the battle; it plays a key role in connecting stakeholders and ensuring security. Our trusted disaster recovery service providers assist customers in preparing, recovering and progressing through an unplanned incident that would otherwise result in disruption. We offer both remote and onsite supports to aid in the occurrence of such events. * *Please note that recent government guidelines relating to the COVID-19 global crisis will be adhered to in the event of an onsite visit. *
IT Infrastructure
There are a range of IT hardware solutions available for businesses which can make it difficult for business owners to select the most appropriate and best value products for their needs.
Our procurement experts can support you pre-purchase to help you avoid these mistakes. We can procure and advise on servers, laptops, desktops, and mobile devices to suit your business needs. What about Cloud? Many businesses are exploring cloud computing to support remote working. Our team can help guide you through the best solutions for your business to ensure you have a high level of accessibility and maintain security.
Keen to learn more about our services? Keep scrolling
If one of the services you are looking for isn't listed, why don't you contact us to find out more.